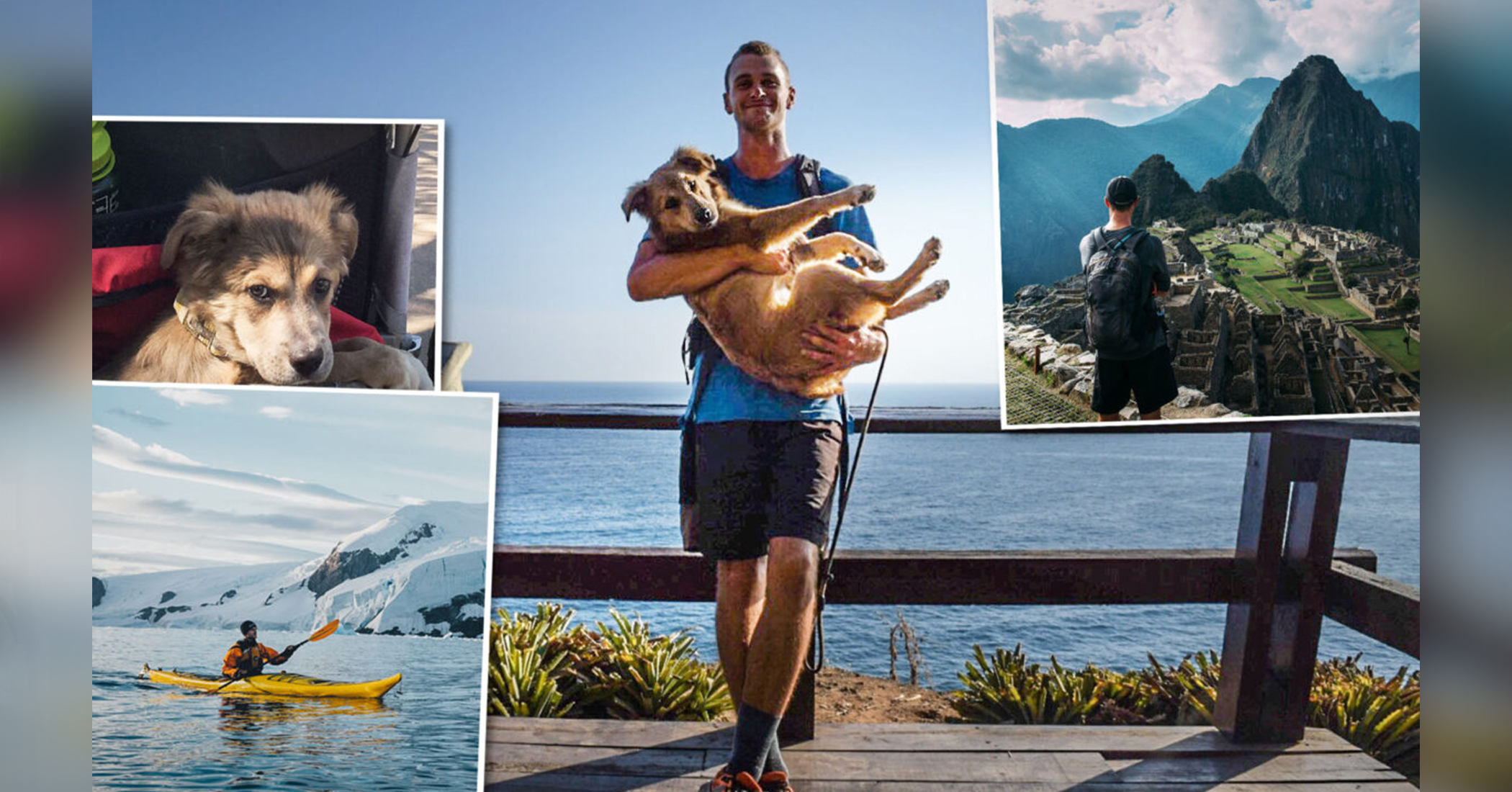 26-year-old travels the world for 7 years after tragic death of friend and finds furry companion
A young man from New Jersey has just spent the last seven years traveling the world. Tom Turcich, now 33, has crossed 35 countries and spent 45 pairs of sneakers. When we caught up to him, he had just crossed the St. Louis Bridge into Missouri on the home stretch.
Walking in a drizzle, Turcich told The Epoch Times some of his endless adventures since leaving the home he shared with his parents and sister in a New Jersey suburb. He also shared some photos (mostly from the western hemisphere) from his travels.
"I was held at knifepoint in Panama and held at gunpoint in Turkey, where they thought I was a terrorist," he said. "But my relationships with people have almost all been good. I got a lot of help, they gave me food and water on the side of the road, and they brought me for dinner, or overnight for shelter.
Turcich's stay began the day before his 26th birthday. From home he walked to Texas and continued walking to Panama City the first year. Although it may seem like a spontaneous decision, it took eight years of hard work, saving and paying off student loans before he could finally leave.
The motivation for his long journey came while he was still a teenager. After a close friend died suddenly in a sudden accident when he was 17 and she was 16, it changed Turcich's outlook.
"I realized I could go that fast and I had to get the most out of my life," he said. "I wanted adventure, I wanted to see the world, and walking around the world seemed to solve that problem."
Later, by gaining sponsorship from a company called Philadelphia Sign – whose owner Turcich has known him since high school – he was able to make it happen. After Panama City, he walked to Colombia and Uruguay, then continued to spend the years walking through Europe and North Africa. From Tunisia he went to Italy, along the Adriatic to Turkey, then across Turkey to Georgia and Azerbaijan.
When the pandemic hit, he was stuck in Azerbaijan for a while and then returned home to get a COVID shot. He also returned home on two other occasions: once for Christmas in 2016 and once to recover from a nasty bacterial infection he picked up in Europe.
His return to Jersey also allowed him to settle the travel papers for the beloved companion he found on his way that first year. Savannah, a retriever, was just a scruffy young pup when he adopted her on his way through Texas and he had to push her in a cart. Now he estimates she has covered around 25,000 miles by his side.
Having walked about 28,000 people has vastly expanded his understanding of the world.
"Before I left, I had been to a few countries, but mostly I grew up in suburban New Jersey," Turcich said. "Now, after traveling for so long, I have a much better idea of ​​how history and culture can impact a place, and how geography can impact a country and set it on a certain way. Besides, it doesn't matter what country; people are people everywhere. And most people are good.
The meditative nature of the walk also gave Turcich plenty of time to reflect.
"It brought me a lot of peace and self-knowledge," he said.
On the final stretch, with less than 1,000 miles to go, Turcich predicted that he still had about two months of walking left. He is happy to have donated $1 per mile to a friend's scholarship fund, and he receives donations from supporters himself via Patreon.
Having spent years sleeping in a tent he carried with him and Savannah, was he looking forward to having his own bed? Would he miss life on the road?
"Oh, no, no, I'm done," he said. "I'm ready to finish this – I've been here a long time. And that's great. There's this huge satisfaction in my days, because I'm outside, exercising, and having this very immediate goal to walk this far. And so the days, in a way, are very rewarding.
"But at the same time, I had been doing this for quite a long time. I'm ready to see my friends and family and sleep with a roof over my head every night.
The first thing he'll do when he gets home, he says, is sit down and have a beer. His family has a house on the beach, so he plans to spend the summer there to decompress. Soon he plans to write a book about his extraordinary travels, having claimed the title of being the 10th recorded person to walk around the world.
"I will definitely write a memoir," he added. "You know, I just wanted to see the world to understand it a little better.
"Of course I was disappointed that I couldn't enter Kazakhstan, Mongolia or Australia due to COVID restrictions – they were on my original route. But I feel like I did pretty well and I'm very happy with how it went.
As for Savannah, the "mangy street pup" he found in Texas, she was never to know that she would become the first dog to officially walk around the world.
More photos from Turcich and Savannah's seven-year stint:
Share your stories with us at [email protected], and keep getting your daily dose of inspiration by signing up to the Inspired newsletter at TheEpochTimes.com/newsletter